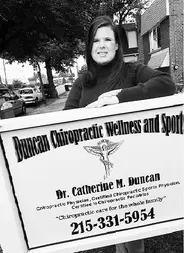 Dr. Catherine Duncan has been a licensed Chiropractor since 2003. In her Philadelphia, Pennsylvania, office Dr. Duncan and her staff are committed to promoting the health and well being of her patients.
Dr. Duncan uses a "whole person approach" when taking care of her patients. By combining the very best hands-on-technique, state of the art physiotherapy procedures, and providing the latest and best natural vitamins and mineral supplements on the market today, Dr. Duncan is able to help you to accelerate and/or maintain your journey to good health.
Dr. Duncan began her collegiate education at the University of Delaware, where she received a Bachelor of Science degree in Exercise and Sports Science. She continued her education at the New York Chiropractic College. While attending, Dr. Duncan was chosen to study Principles of Training Theory: The Study and Application of Elite Sport Science at The United States Olympic Training Center in Lake Placid, New York. The New York Chiropractic College promised a future in the wellness practice, offering alternatives to traditional medicine, and helped to shape the holistic approach Dr. Duncan practices today. She took elective studies in pediatrics, nutrition, homeopathy, and adjunctive procedures for women. By attending year round, she completed the five-year Doctor of Chiropractic Degree in less than three and a half years, graduating Cum Laude in December, 2003. After an additional year of post graduate work Dr. Duncan became a Certified Chiropractic Sports Physician. In 2006 Dr. Duncan completed Certification in Chiropractic Pediatrics through the International Chiropractic Association.
Today, Dr. Duncan feels so fortunate to have a practice where she can show up every day and reconfirm her purpose and passion through patient care. Her patients and their healthcare achievements are an absolute testament to the power and wisdom of the human body, and its innate ability to heal from the inside out. The potential for alternative healthcare is limitless and it is her greatest desire to make it widely available, and received.